Air Tightness Assessors Ltd are an independent Family run company we have been operating since 2006 and have a wealth of knowledge in the field of air leakage testing.
We pride ourselves on a professional and Personal service to our clients. We are fully qualified professionals, registered with ATTMA for Air Tightness Testing.
ATTMA allows us to carry out air pressure testing without the presence of building control personnel.
All testing complies with building regulations part L1A and is carried out to ATTMA TS1 standard, our equipment is calibrated by a UKAS certified laboratory. We also carry professional indemnity and public liability insurance.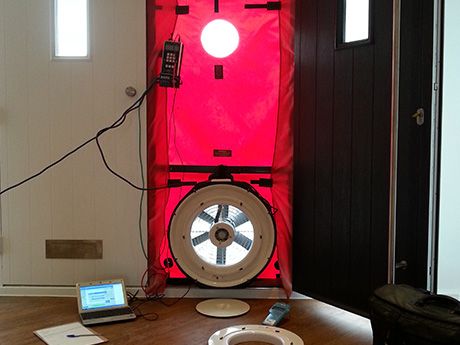 We now offer extractor fans testing and commissioning of Mechanical Ventilation with Heat Recovery (MVHR)
We Provide a professional and efficient ventilation testing service to make sure your build complies with Part F of the Building Regulations introduced in 2010. Ventilation testing is required to verify the practical performance of ventilation in new dwellings and measures the airflow for every dwelling constructed
Part F Building Regulations requires standard intermittent extractor fans in new buildings (such as bathroom and kitchens) to have their air flow rates measured on site and the results submitted to the building control body prior to completion.
At the same time as having the dwelling air tested, we can offer at a discounted rate to test the flow rate of the extractor fans in the property.
With UKAS calibrated equipment the extractor fan flow rate is quickly tested and reported on.